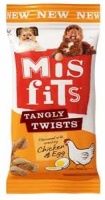 Mis fiTs Tangy Twists 140g Chicken & Egg
You'll both love to play with Tangly Twists™. Untangle, unwind and undo; your dog can get stuck in and chew!
Flavoured with tempting chicken and egg!
Tangly Twists™ contain no artificial colours or flavours - we told them to stay where they were.