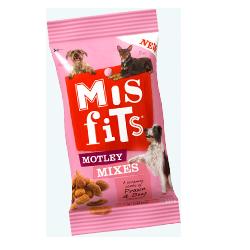 Mis Fits Motley Mixes Dog Treats 180g
A Scrmmy Combo Of Prawn & Beef
A mixed bag of fishy and meaty shapes and flavours, your dog will love Motley Mixes: so much so that they'll probably stash some in their basket for later - if they can wait that long, that is!
Featuring a scrummy combination of seriously tasty prawn and beef in a nice nibbly texture.
Motley Mixes™ contain no artificial colours or flavours - we buried those in the garden instead.